NEW PICTURES OF HARLEY'S BABIES ...
UPDATED 2-13-05.
Scroll to lower part of page to view .
picture below here is an example of the Yorkese ,sometimes known as Morkies ...of Jenny's babies last year .
Yorkese puppies and their new MOM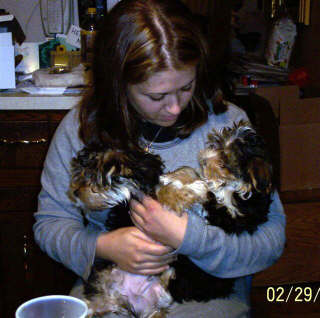 Example
MOTHER....HARLEY'...Yorkshire Terrier .....black and tan ....7lbs
FATHER....RICKY.....Maltese ... ....white.....7.lbs
Born ...12-20-04
4 females ...1 male
Colors ...tan with black and white markings
estimated weights when adult 5 to 10 lbs .
1 male left
EXPECTING JENNY'S LITTER BY APRIL ...NOW ACCEPTING WATING LIST CONTRACTS ON JENNY AND RICKY'S BABIES .
NEW PICTURES BELOW OF US
CHECK US OUT !
Price...700.00 male
750.00 female
plus shipping or delivery
click here to download file...word pad doc format
click here to download file...rtf file format ...rich text
You can download the contract by clicking the link above or go to the link below and print out the contract when you choose your puppy.
If e-mailing
If snail mail
Shirley kitelinger
Poos-4-U
370 Wooten Rd
Grant ,Al 35747